Update (December 11th 2015): Today Microsoft released a hotfix for the Self Service Portal, the hotfix (KB3124091) can be downloaded from Microsoft Download here.
The corresponding KB article at time of writing isn't available yet. I did an installation in my lab environment though and the most annoying issues are solved Please read the full article to get an idea of what was solved.
Summary:
Affected user and Created by user is getting set to the service account
Query type form element is not working for the Incident and User classes
Request Offering forms are failing to load if a Query type form element is part of the form
Username token is not passing values to the mapped field
Cancelling request form does not work
Text is overlapping for long strings inside the list in the middle pane
Related activities inside My Requests always show state as active
Filters inside My Requests and My Activities is not working for some languages
Announcement is showing "Invalid Date" in Expired Date column for some languages
Comments in the request are using incorrect class
Required (mandatory) restriction is not working on query type form element
Query form element allows multiple selection even when it is configured for single item selection
Scroll bar does not work on some lower screen resolutions
Double scroll bar appears while browsing Help Articles
Some areas of portal are not rendering in Mozilla Firefox web browser
My Activities shows 0 instead of removing the notification sticker when no activity is in progress
With SSL enabled, the browser regularly prompts the message "Only secure content is displayed" with a button to "Show all content" while browsing the portal
"Added by" inside the action logs show domain\username instead of the display name of the user
Please be aware of the fact that there are still (known) issues, read them carefully and determine if they are blocking a production implementation:
Known issues:
Un-favorite does not work for Request Offerings
Portal does not filter Request Offerings based on the language
Query form element with filter criteria depending on selection from another query in same form does not work
Multiple query form elements inside same request offering form cannot add same relationship types
Action logs do not expand when any request is opened via direct URL
Update: Microsoft has announced that it will release an update for the Self Service Portal on December 10th.
Hotfix for UR8 (Self Service Portal) issues is releasing on Dec 10

— SC Service Manager (@ServiceManager) November 23, 2015
This Tuesday Microsoft released Update Release 8 for System Center 2012 R2 Service Manager. While normal Update Releases for the product are available from download in a KB article, this Update Release is only available from Microsoft Download. The download page from Microsoft specifies an KB article (KB3096383) for more information but unfortunately this redirects to a page not found.
Installing the Self Service Portal is described by other people already, I advise you to have a look at this blogpost from Steve Buchanan: Early Look: Service Manager HTML 5 Portal and this blogpost from Michael Seidl: Installation and first look at the new SCSM HTML5 Portal. Microsoft self has also supplied some documentation on Technet which is available here: Deploy the New Self-Service Portal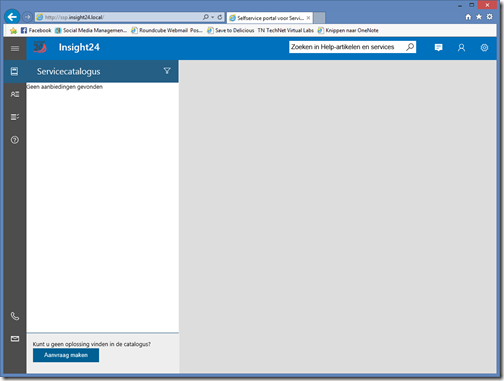 Below are my experiences so far, please read them carefully and determine if implementation of this new Self Service Portal is worthwhile in your environment:
1. You can't install the portal on de DW Management Server
2. You can install the portal on the WF management Server or any other server
3. Run the setup as administrator, or else you will get an IIS 7 role is not installed error
4. It's not clear if there are issues resolved in UR8, since the KB is missing.
5. The download mentions that UR7 is a prerequisite, while the installation documentation on https://technet.microsoft.com/library/mt622142.aspx mentions that: "In order to deploy the new Self Service Portal, you must have System Center 2012 R2 Service Manager Update Roll-Up 8 or later installed."
6. Download contains an .MPB file, but when I want to import this the console mentions that its already installed.
7. Some links in the setup wizard refer to Technical Preview documentation
8. Service Requests which have required fields cannot be canceled in the Self Service Portal
9. Incident Requests are created under the Service Account supplied during SSP installation and not using the logged on user account
10. The default language is French, this can be modified in the Application Settings or Web.config in IIS though
I will try to update this blogposting with fixes/workarounds if I find them, or when Microsoft releases a new version solving these issues.