Update: Microsoft has announced that it will release an update for the Self Service Portal on December 10th.
Hotfix for UR8 (Self Service Portal) issues is releasing on Dec 10

— SC Service Manager (@ServiceManager) November 23, 2015
This Tuesday Microsoft released Update Release 8 for System Center 2012 R2 Service Manager. While normal Update Releases for the product are available from download in a KB article, this Update Release is only available from Microsoft Download. The download page from Microsoft specifies an KB article (KB3096383) for more information but unfortunately this redirects to a page not found.
Installing the Self Service Portal is described by other people already, I advise you to have a look at this blogpost from Steve Buchanan: Early Look: Service Manager HTML 5 Portal and this blogpost from Michael Seidl: Installation and first look at the new SCSM HTML5 Portal. Microsoft self has also supplied some documentation on Technet which is available here: Deploy the New Self-Service Portal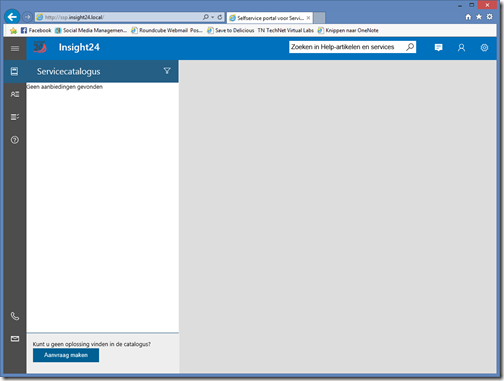 Below are my experiences so far, please read them carefully and determine if implementation of this new Self Service Portal is worthwhile in your environment:
1. You can't install the portal on de DW Management Server
2. You can install the portal on the WF management Server or any other server
3. Run the setup as administrator, or else you will get an IIS 7 role is not installed error
4. It's not clear if there are issues resolved in UR8, since the KB is missing.
5. The download mentions that UR7 is a prerequisite, while the installation documentation on https://technet.microsoft.com/library/mt622142.aspx mentions that: "In order to deploy the new Self Service Portal, you must have System Center 2012 R2 Service Manager Update Roll-Up 8 or later installed."
6. Download contains an .MPB file, but when I want to import this the console mentions that its already installed.
7. Some links in the setup wizard refer to Technical Preview documentation
8. Service Requests which have required fields cannot be canceled in the Self Service Portal
9. Incident Requests are created under the Service Account supplied during SSP installation and not using the logged on user account
10. The default language is French, this can be modified in the Application Settings or Web.config in IIS though
I will try to update this blogposting with fixes/workarounds if I find them, or when Microsoft releases a new version solving these issues.