Microsoft 365 changes regularly, changes are implemented almost on a daily basis and as an Admin responsible for the service you must be aware of which changes are coming to your tenant.
In order to inform administrators Microsoft uses the Message Center. From within the message center administrative users are also automatically subscribed to weekly digest and major update emails. Within the message center message are categorized in the following categories:
Plan for change
Prevent or fix issues
Stay informed
Data privacy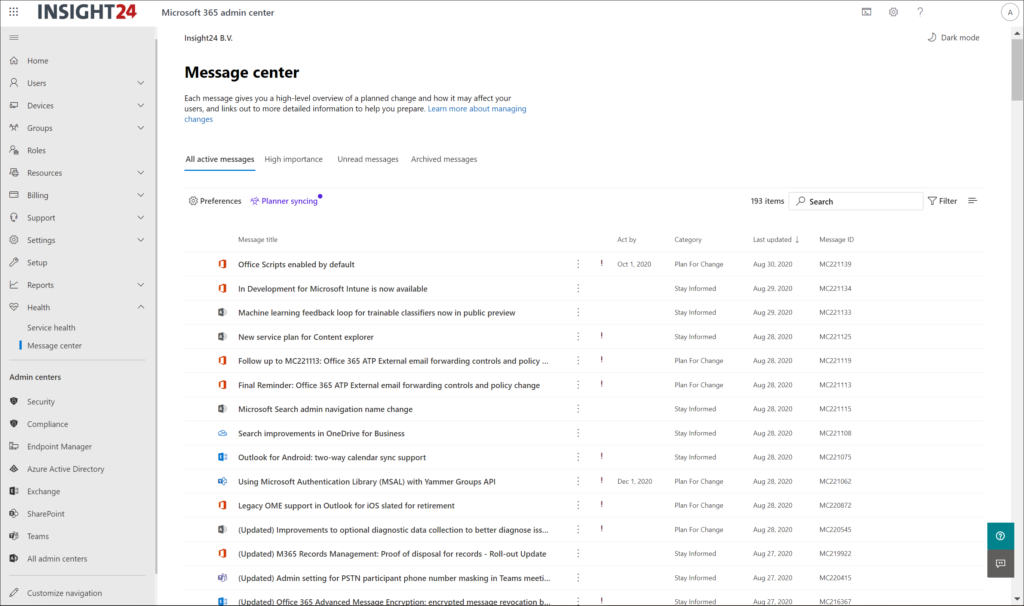 Changes announced in the message center are coming from the Microsoft 365 roadmap, which features are in development, are being rolled out and are launched. What comes on the roadmap is determined by Microsoft which gets it input from their Partners, MVPs but also their different UserVoice platforms which collect user requirements and for which you can add suggested features as well.
Information overload
The summary email from this morning for example already contained 30 different messages, which is a selection of the current messages in the Message center which is a multiple of that (193 at time of writing). Because of this it's hard to keep an overview, and as an Administrator you might be surprised by an announced change from Microsoft surprising you once implemented.
If you are currently already using Microsoft Planner to control your tasks, Microsoft is now rolling out the option to synchronize Message Center messages to Microsoft planner.
Synchronize Message Center to Microsoft Planner
If the feature is enabled for you tenant, you will notice the option "Planner syncing" next to preferences in the Message Center.

Setting up Planner Syncing is illustrated in the following slideshow, for this case I decided to create a new Microsoft 365 teams environment, which includes a planner titled "Message Center". While creating you also have the option to automatically create a Flow within Power Automate, so that the Message Center is kept synchronized with your created planner board.
From the message center, click on

Click on, Set up syncing

Type the name of your already created plan in the "Search for a plan" box

Provide the necessary details, and choose whether to use an existing bucket or create a new one

Choose updates, categories, services and products which you want to include

Choose timeframe

Review settings and click Finish

Set up automatic syncing using a flow in Power Automate

Link the flow using the + sign

Click on create flow

Click Done

See messages coming into your planner bucket

Notice that flow is created within Power Automate
Conclusion
Planner synchronization for Message Center is a nice and welcome addition, which every Microsoft 365 administrator should enable. It allows you to create structure in the overload of messages coming from the message center. For people using Azure DevOps, having a similar integration would be very welcome as well, hopefully in the future.
Keep in mind that you can only setup this integration for one Planner board, therefore my advice is to use a shared planner even if you are going to use it for yourself to start with.
References
Planner and Todo:
Planner and To-Do integration: bringing you a more cohesive task management experience in Office 365
Microsoft documentation:
Track your message center tasks in Planner