On Wednesday June 30, I will be speaking at the monthly user group meeting of the Microsoft 365 Security & Compliance user group. The Microsoft 365 Security & Compliance user group is based in the UK and UK based user group consists of Alan Eardley (@al_eardley) and Peter Rising (@M365Rising)
The meeting starts at 18:00 British Summer Time (BST), that's 19:00 in my time zone (Amsterdam, Netherlands), see this link to find out how late the meeting starts in your time zone. You can join the meeting by RSVP'ing on the Meetup page of the Microsoft 365 Security & Compliance user group.
The meeting will start with a session by Sergey Chubarov, who is a Microsoft Azure MVP and his session is titled "Hackers won't pass – Microsoft 365 Defender in action"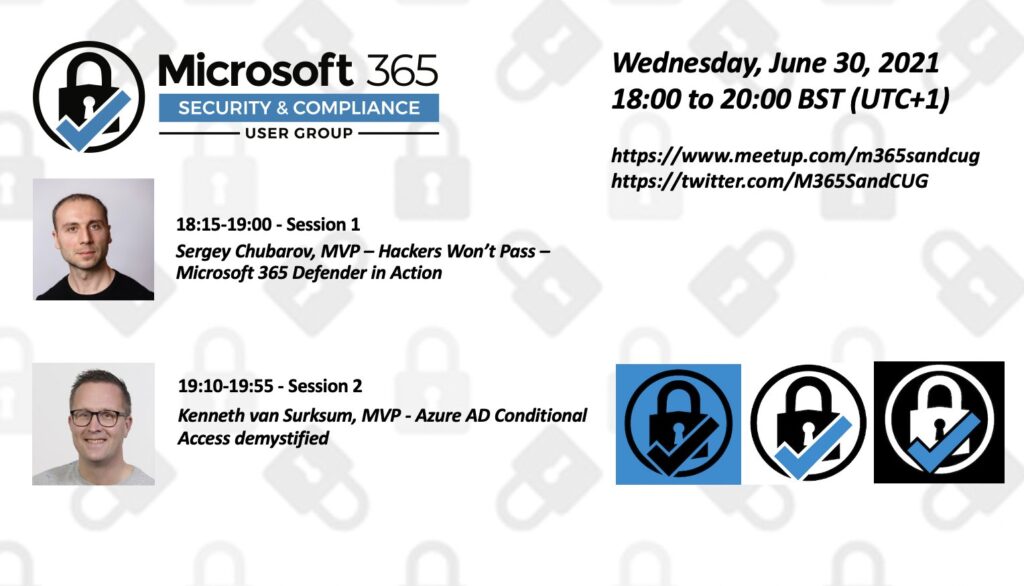 After the session of Sergey, my session will start at 19:10 (20:10 Amsterdam time zone) and will be around 45 minutes. The topic will be: "Azure AD Conditional Access Demystified"
Abstract:
In July 2016 Microsoft made Conditional Access generally available. Since that time I had a love and hate relationship with this functionality of Azure AD. Mainly because it's difficult to test scenario's and some changes can have a really high impact. I even experienced being locked out of accessing the Azure portal during one of my tests.
In this session I will share my experiences about implementing Conditional Access at several customers, I will explain what went wrong so you don't have to make the same mistakes. I further will cover how to design, implement, test and troubleshoot Conditional Access policies and last but not least, I will share my own Conditional Access policy baseline which I use as a starting point for every implementation. Because sharing is caring.
Even though this is a session which I presented before, the session itself it continiously updated to reflect the latest status of Conditional Access.
I'm really looking forward to this session and hope to (virtually) meet you there..