On Thursday, December 16, the Microsoft Cloud and Client Management Community (MC2MC) is organizing its December Evening event. The MC2MC team consists of Tim de Keukelaere, Wim Matthyssen, Tim Hermie, Ken Goossens, Jasper Bernaers, Peter de Tender, Peter Linders and Micha Wets, all well respected community organizers from Belgium.
The event, which will be virtual starts at 18:30 Central European Standard Time (CEST) – you can check this link to find out when the event will take place if you live in another timezone. The event will contain sessions by Derek Smith, Gregor Reimling and Thomas Naunheim. And I'm honored to announce that I will also present at this event as well.
The Agenda:
18h30 – 18u45: Welcome
18h45 – 19u30: Zero to Hero with Azure Virtual WAN by Derek Smith
19h30 – 20h15: Designing and building Microsoft Endpoint Manager for Operations by Kenneth van Surksum (Microsoft Enterprise Mobility MVP)
20h15 – 20h30: Break
20h30 – 22h00: Azure Governance Best Practices and Enterprise-Scale by Gregor Reimling (Microsoft Azure MVP) and Thomas Naunheim (Microsoft Azure MVP)
22h00 – 23h00: …: BYOB (Bring-Your-Own-Beer) Social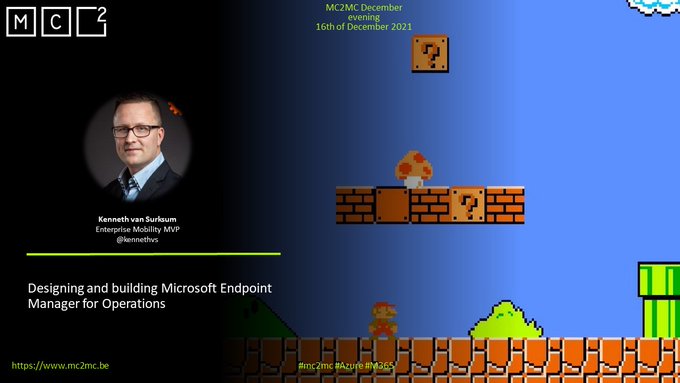 Designing and building your Microsoft Endpoint Manager/Intune environment for Operations
I'm very happy and excited to announce that I will also be speaking at this event, with my session titled: "Designing and building your Microsoft Endpoint Manager/Intune environment for Operations". My session will start at 19:30 PM till 20:15PM.
Abstract: In my work as a modern workplace consultant, I see a lot of Microsoft Endpoint Manager/Intune environments. Many of these environments have been build based on trial and therefore it lacks structure and overview. Most of the environments have been built from scratch, adding and removing functionality until a point was reached where the solution was taken into production.
A solution that works, doesn't necessarily have to be a solution which is consistent and therefore easily manageable.
This session will help you to create a consistent MEM environment, by introducing consistency. You can only build such an environment if you know the pros and cons of the solution and the product. Kenneth will share his experiences with the audience using both slides and demos
I really hope to virtually meet you there.