On October 7, 2022 the AppManagEvent will be organized in the Media Plaza, Jaarbeurs Utrecht. The AppManagEvent is an initiative from PDS b.v. in the Netherlands.
For 2022, the themes are Deployment, Security, Application Virtualization, MSIX, Win10/11/365 management, Identity Management, IT Infra and much more.

At this event, I will be speaking together with my buddy Peter Daalmans about Mobile Application Management using Microsoft Endpoint Manager/Intune in our session titled: "How to KISS using MAM".
Our session will start at 11:15 in the Mission 2 room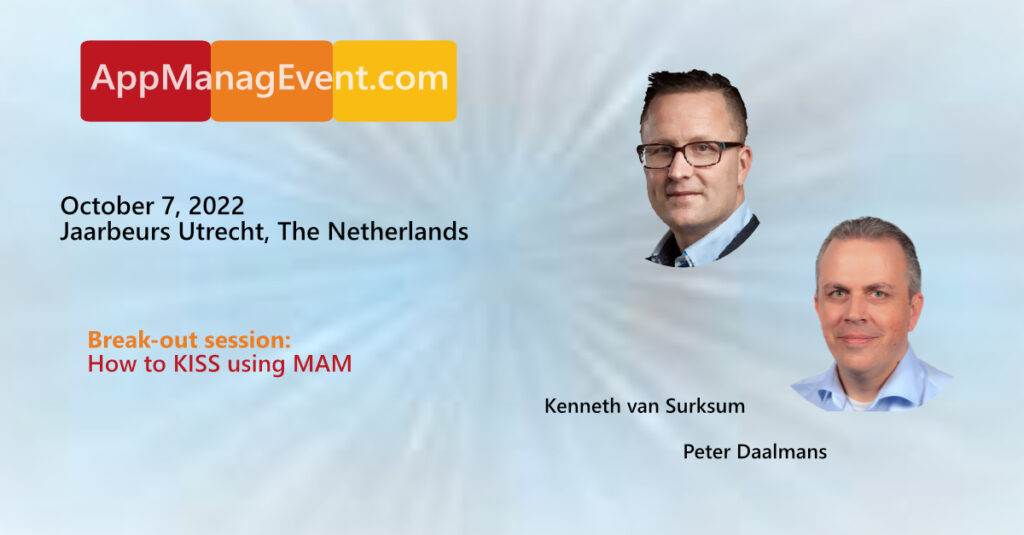 Abstract of the session:
In this session, Microsoft Enterprise Mobility MVPs Peter Daalmans and Kenneth van Surksum will do a deep dive on Mobile Application Management as part of Microsoft Endpoint Manager/Intune.
Peter and Kenneth will explain how to configure MAM, how to integrate it with Conditional Access and how to troubleshoot MAM related issues in case something goes wrong. Also lessons learned will be shared with you.
You can learn from our experience while implementing it with MDM and without MDM, so that you don't have to experience the issues we had.
We hope to meet you there!