On Wednesday April 1st, I have the opportunity to present at the RDW Techday. RDW Techday is a community event organized by the RDW, the goal is to stimulate knowledge sharing within the company and between companies in the same region. I had the pleasure to present at earlier events already and received some really positive feedback.
RDW is the Netherlands Vehicle Authority in the mobility chain. RDW has developed extensive expertise through its years of experience in executing its statutory and assigned tasks. Tasks in the area of the licensing of vehicles and vehicle parts, supervision and enforcement, registration, information provision and issuing documents.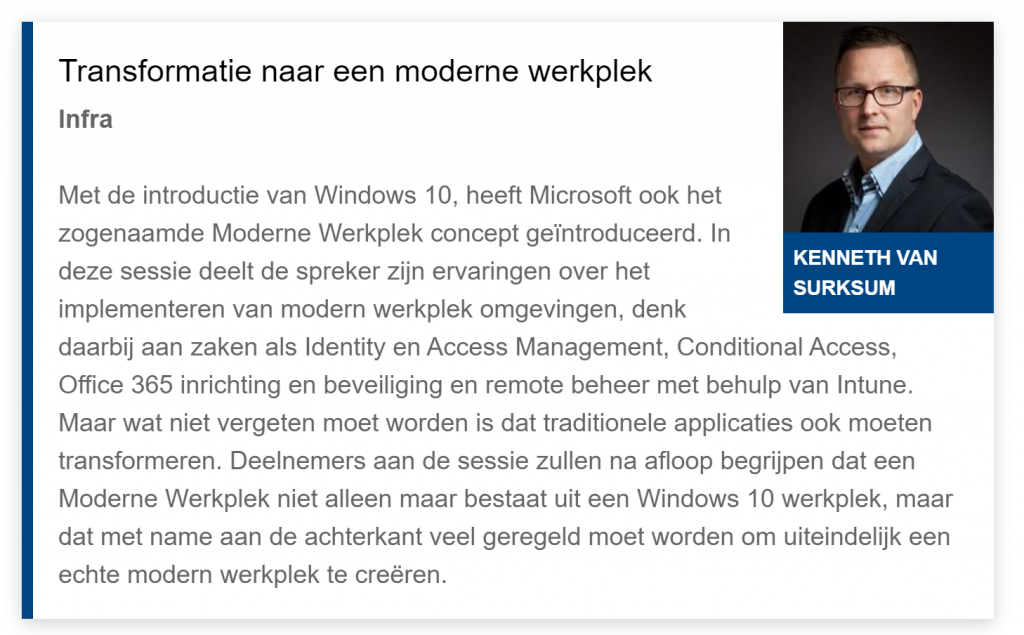 My session that day, which will be in Dutch will be about the following subject: Transformation into a modern workplace.
Abstract: With the introduction of Windows 10, Microsoft has also introduced the so-called Modern Workplace concept. In this session the speaker shares his experiences about the implementation of modern workplace environments, such as Identity and Access Management, Conditional Access, Office 365 design and security and remote management with the help of Intune. But what should not be forgotten is that traditional applications must also transform. After attending the presentation, participants in the session will understand that a Modern Workplace does not only consist of a Windows 10 workplace, but that a lot has to be arranged at the backend in order to ultimately create a truly modern workplace.
Besides my session there will be a lot of other interesting sessions held about topics like infrastructure, software development, automotive and this year explicitly also security.

I hope to meet you there!