I'm very proud to announce that I will be speaking at the Workplace Ninja Virtual Edition 2020 event. The Workplace Ninja Virtual Edition 2020 event will take place from Tuesday 25th till Thursday 27th of August 2020 and will contain 45 sessions, spread across 3 days. Each day will provide 3 tracks, with 5 timeslots. The event can be attended for free, the only thing you need to do is register via the website.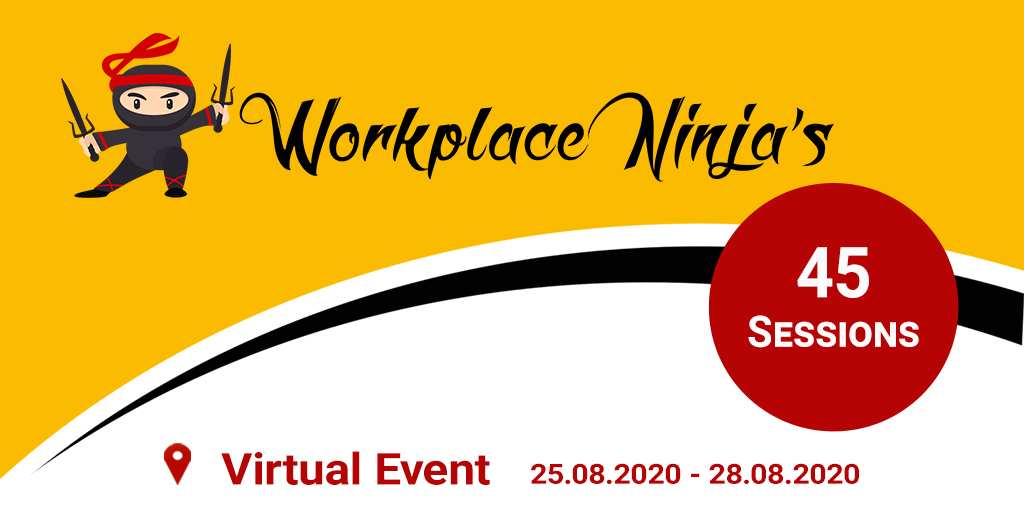 The goal of the Workplace Ninja Virtual Edition is to share knowledge and learn together. This covers topics around management of endpoints with SCCM and Intune, as well virtual desktop and the complete security stack of Microsoft. Since the event is virtual, we can't see each other personally but we will provide a NinjaZone, where we can connect with each other.
Initially the event would be held on-premises in Zurich in the same week, but due to the COVID-19 crisis, the organization decided to make it a free virtual event instead. The organization is postponing the on-premises event to 2021.
My session, titled: "Back to basics, best practices for application deployment using SCCM and Intune" will start at 13:00 CEST time on Tuesday August 25.

Session abstract: During this session, Kenneth van Surksum (author of the System Center Configuration Manager Current Branch Unleashed book) will share his best practices for application deployment using SCCM and Intune.
Traditional applications will not disappear soon, so (re)packaging them and distributing them using software distribution software will neither. Kenneth will share some best practices on creating Packages, Applications and using them for Software Distribution or within a Task Sequence for OS Deployment.
I hope to virtually meet you in my session, I'm really looking forward to this event, even though it's virtual. Please also have a look at all the other great speakers and their sessions, it's a really great lineup!